Ok, this is getting intense. Costa Rica advertises itself as one of the best spots on earth for Eco-tourism. I've renamed it Gecko-tourism (with a bit of poetic license). Geckos run around like ants, and monkeys are as common as squirrels. We were just starting to get comfortable with it all. Then yesterday's adventure outdid everything we've seen to date. My husband and I went on a one day tour, simple enough, right? As innocent as Ginger and the Professor… (Ok, fine, Thurston Howell, III and Lovey.)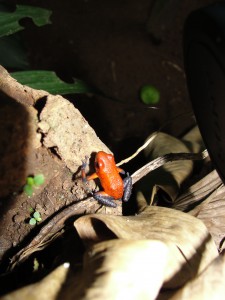 These are but a few of the animals we saw. Yes, that's a COW'S HEAD that the Jaguar is eating, and sure, he's in a cage, but still… And that sweet little red frog? It's poisonous. The crocodile is not a crocodile ~ it's a caiman, whatever that is. If this country wasn't so mind-boggling beautiful, a girl might have to wonder why she was here.
From the animal reserve (wild-life in cages… I know the feeling), we traveled to an active volcano, called Arenal, in the central region of Costa Rica. (If you look closely, you can see steam blowing from the top.) To reach it, we had to drive through a jungle into the rain forest and around the lake, below. The lake is actually man-made (or rather, man-manipulated) and unbelievably gorgeous, amazingly similar to Lake Lucerne in Switzerland. In 1979, the government diverted 10 nearby rivers to fill in the enormous valley, thus drowning a centuries-old city (which they kindly relocated up the hill). It took us 1.5 hours just to drive around the lake on a narrow, two-lane road through the jungle to reach the volcano. Let me tell you what it's like to go 60 kph around the twists and turns, flashing from blinding sunshine into near blackness of the mountainous shade with our guide, Bernal Mata, who apparently knows no fear of oncoming traffic or crossing the center line: ah, heck, I wasn't scared a bit, not even when we rounded a bend to find ourselves nearly on top of two cows, out for a late-day stroll in the middle of the road with their friendly farmer. Fortunately, we were distracted because Bernal was helping me "Practicando mi español." (I'm getting much better!)
But that's not all. We also went to this incredible waterfall, down a dirt road, over hills and rocks and trees, past farms and ramshackle houses and old volcanic rock randomly strewn about a few hundred years ago. Once upon a time, only the locals knew about it. Now they take gringos like us there on any given Wednesday afternoon.
Here is the intrepid Bernal Mata (on the right of the picture, below left). Looks a little like Will Smith, don't you think? (The one who looks like George Clooney is my husband. Just a couple of movie stars hanging out at the local waterfall.). If you're ever in this neighborhood, I highly recommend Bernal as a tour guide. www.ticotoursguanacaste.com Every adventure we took with him was first class, and he speaks English very well.
Whew, what a day it was! It's no wonder I sleep so well down here… until the monkeys start howling outside my window at 4am. But they're so cute that we're still fascinated by them instead of annoyed.
If I sound a bit like a kid in a candy store, that's how I feel. This vacation, albeit longer and more relaxed than any trip I've ever taken, has been the best journey of my life. And yes, I"m the one who had no idea how she'd MANAGE to stay calm for sixty days. (For a literary bent, see today's other entry: Life is like a matryoshka doll.) Between Granada, Nicaragua and the Gecko-tourism and the sunsets in Costa Rica, I've never been so fascinated by the world we live in (natural or man-made). (Though the Mayan ruins were pretty cool, and I've never been to the Far East.) This country, while not cheap, not cheap at all, is wonderful. The rich, local food, the friendly people, the laid-back attitudes, the incredible scenery, the sunny warmth, the gentle beaches, it's all wonderful, though as they keep reminding us, "It's not for everyone."
But for now, it's for us.