Tis the season of Lists! I've been paying close attention to the Best Books lists from as many sources as possible. The NYT's Top 100, B & N, Goodreads, Oprah, etc., to see how many of their choices I've read. In other words, to see how well I did choosing the right books to read this year. I did … just fair. I have read some and plan to read others. Then there are a few I'm sure are great that I have no real interest in reading. Even more interesting (though I'm not sure what this says about me) is the handful of books that made the big lists that I didn't like for one reason or another.
In 2013, I have read 41 books (hope to get #42 done before the Ball drops). Of those books, thirty-three are fiction, and eight are non-fiction.  A few of the books I've read this year were actually published this year; some even made the aforementioned big lists. But, good or bad, some of the books I read this year range from old to quite old. For my Top Books of 2013, I decided to focus on the relatively new novels I read this year.
Without further ado, here are Karolyn's Top Books for 2013:
(Relatively) New Fiction:
1. Tenth of December, by George Saunders
2. Cloud Atlas, by David Mitchell
3. The Ocean at the End of the Lane, Neil Gaiman
4. Visitation Street, Ivy Pochoda
5. Tell the Wolves I'm Home, Carol Rifka Brunt
6. The Cuckoo's Calling, by Robert Galbraith (aka JK Rowling)
7. Beautiful Ruins, Jess Walter
Everybody has a list, and now so do I.
I love a good book discussion. If you agree or disagree with any of my choices here, let me hear it! Or, if you have a favorite that I missed, please tell me so I can add it to my towering TBR list. And I mean that literally. This is my stack of TBR books: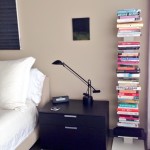 A few more can't hurt.